HONEY VALLEY HOME STAY RETREAT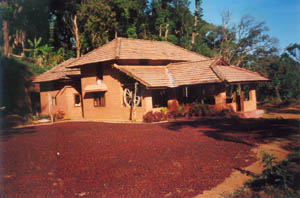 If you would like to escape from the hustle and bustle of modern day life and taste the crisp clean air and drink the magical notes of the humming insects, then the perfect place for you is the Honey Valley Home Stay Retreat. The Chengappa couple has built up their farm house over the years. After being the most important honey producers in India (6.5 tons per year), the sickness & disappearance of the native bees in 1994 stopped their main income. Now they cultivate coffee, cardamom & pepper in the most ecological way possible. Having built the new house, they have transformed the old house into a guest house & opened it to nature loving visitors. The Estate is at an altitude of 1300 mtrs. It is remote & difficult to access which makes it peaceful & relaxing. Traditional Coorgi food is prepared by the hostess. The Honey Valley Home Stay Retreat is quite remote and difficult to access which makes it peaceful and relaxing. Even the electricity required for the estate is produced using the water from the stream flowing through the estate. A four wheel drive is the only means of transportation to the estate.
A view of the enchanting nature at one of the trekking routes
The Guest House with two units of 6 and 4 beds each.
A view of the enchanting nature
one of the trekking routes.

The Guest House


Address:Honey Valley Home Stay Retreat
Yavakapady P.O, Kodagu – 571 212, Karnataka. Tele:08272–238339 Bookings: Online Directly through the owners or through: