Location Map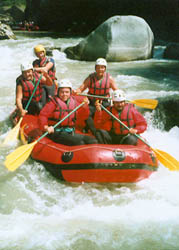 One hundred and seventeen km from Karwar and just 75 km from the railhead Hubli, lies Dandeli, gateway to the 834 sq. km. Dandeli Game Sanctuary.?? It is home to rare species of animals, like barking deer, sloth bear, civet cat, panther, Flying Squirrel and Malabar Squirrel.?? Woodpeckers and Hornbills are some of the birds sighted.?? Take in the jungle experience by staying at the Kali Wilderness Camp, located on the edge of the Kali River or at the Bison River Resort.?? Ride down the Kali river in a coracle (round basket like boat), where you can watch crocodiles basking on the banks and water birds nesting, or take a jeep safari or jungle walk into the forests.
Chennabasaveshwara Temple: Forty two kms from Dandeli, this is a major pilgrim centre for Veerashaivas, where an annual car festival and shandy are held in February - March.?? Nearby are a number of natural caves with interesting rock formations.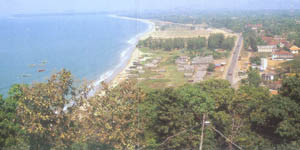 Karwar-165 kms from Kundapur, the district headquarters of Uttara Kannada is a charming port town, situated at the mouth of the Kali river.?? The Kali river bridge, situated at the confluence of the river and the Arabian Sea, dominates the town's landscape.?? Uttara Kannada has sacred pilgrims, historical towns and some of the most beautiful beaches in the country.?? Karwar is said to have inspired the great poet Rabindranath Tagore to pen his first drama.??????
Karwar Beach and town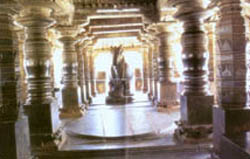 Capital of the Kadamba Kings who established the first Kannada Empire in c. 345AD, Banavasi town (22 km. from Sirsi) is the site of an annual cultural festival - Kadambotsava held in December.?? The Madhukeshwara Temple, is famed for its architecture, deriving its name from the honey colored Linga.?? Of special interest is the intricately carved stone cot, which was actually used by the kings.
60 kms south of Karwar, 120 kms from Kundapur, this coastal town has, among other things, an ancient temple with the Atmalinga.?? Gokarna is also a famous centre for Sanskrit learning.?? The Om Beach and the Kuttle Beach are nearby.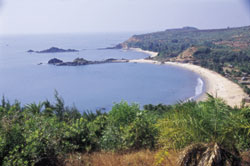 Om Beach is 8kms away from Gokarna.?? Because of its shape "\??(Aum)" which is pronounced as "OM", its callled "Om Beach."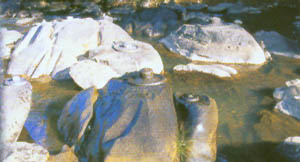 Sirsi - approximately 120kms from Kundapur - is a tranquil town, dotted with terracotta-tiled houses, Jain Basadis (temples) and ancient Hindu temples.?? The 16th Century Marikamba Temple enshrines a wooden deity, that is believed to have been found in a tank.?? The temple has a car festival once in two years.?? Nearby, is a scenic spot, in the midst of a lush forest, said to have been visited by the Pandavas; Sahasra Linga (Thousand Lingas) are carved from a rock-bed, situated in the middle of a swirling river.
Sahasra Linga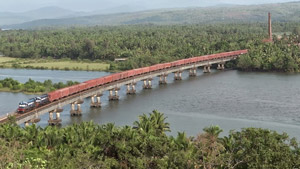 This town - 82 kms from Kundapur - is an important railhead of the newly constructed Konkan railway that connects this coastline; the newly built bridge across the Sharavathi river, dominates the landscape. Six km from Honnavar are the "Apsara Konda Falls"?? (Pond of the Celestial Nymphs) set in a picturesque setting and a fine beach that offers glorious sunsets.?? Fifteen km away is the well known Ganapathi temple at Idagunji.?? The area is also renowned for the fabulous, costumed dance drama form, Yakshagana.
A Konkan Railway bridge across Sharavathi River
50 kms from Kundapur, is a historical township.?? The ancient port town has temples of Vijayanagar times and many interesting Jain monuments.??
65 kms from Kundapur is the scenic holy place of Murdeshwar.?? The temple here attracts a lot of devotees and tourists.??
The Mookambika Temple at Kollur (42 kms from Kundapur) is frequented by devotees from all over the country.?? Founded by Shri Jagadguru Adi Shankaracharya - the temple is known for the Panchaloha image of the Goddess Mookambika.
Maravanthe is 12kms from Kundapur and has a scenic beach.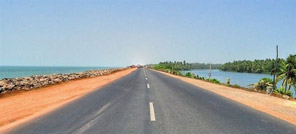 Top??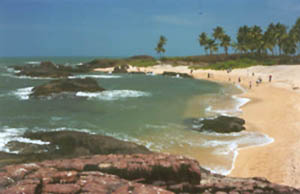 Malpe beach is 40kms south of Kundapur and 66kms north of Mangalore.?? The pristine beauty complemented by peaceful surroundings, make this beach a favourite holiday spot.?? The St. Mary's Island, another delightful holiday hangout, is just a boat ride away.
35 kms south of Kundapur is is Udupi.?? This town has the famous Krishna Temple with the Golden Chariot.?? It is here that the Saint Madhwacharya lived and preached 700 years ago.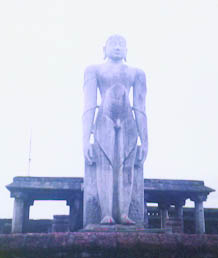 KARKALA GOMATESHWARA: This 52 ft. high Bahubali statue is on the Gommata Betta. He is called Gommateswara- great Gigantic and majestic Ishwara, standing nude, turning his mind away from worldly affairs. It was built in 1432 by Pandya Raja. Yearly celebrations are in February and once in 12 years"Mahamastakabhisheka"??is celebrated. Be here to see how wonderful it will be to see the bathing ceremony of Gomateshwara.??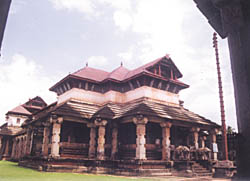 Savirakambada Basadi??(Thousand Pillar Temple) built in 1462 AD-Basadi of 1000 pillars, famous for its stone sculpture. Mahadwar, Bhairadevi, Chitradevi, Namaskaara, Teerthankara and Garbhagruha are the 8 Mantapas here. The idol (8 ft high) of Chandranatha is established in the garbha gruha. Supaarshwa and Chandraprabha?? Theerthankara idols are worth visiting. Navanaari kuinjara, a sculptural art piece that appears like an Elephant but nine dancers, are seen in the figure, is the famous art in this Basadi.??
A 35 ft Gomateshwara can be seen here.
Kateel is 80 kms from Kundapur, on the banks of the river Nandini.?? It has a famous temple dedicated to Durga Parameshwari.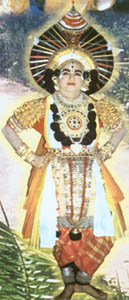 100 kms from Kundapur towards south is the district headquarters of Dakshina Kannada - Mangalore.?? With an important port, this coastal town is a major commercial centre.?? Mangalore could be your entry point to Beach Country - with its virgin and unexplored beaches.?? While in Mangalore try and see a Yakshagana performance - an elaborate dance form unique to Karnataka.?? The Kambala (buffalo race) is another exciting event.??
A trip to Mangalore would be incomplete without a trip to the 10th century Manjunatha Temple, St. Aloysius Chapel, Mangala Devi temple, Tipu's Battery and the Jumma Masjid.?? The Ullal beach with casuarina groves in another attraction that draws tourists all through the year.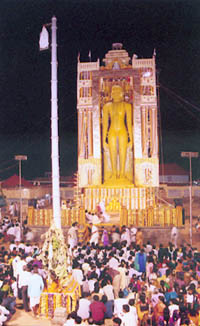 145 kms from Kundapur, situated on the banks of river Nethravathi and surrounded by the lush green forests and hills of Malnad, Dharmasthala is known for it's beautiful surroundings and Sri Manjunathaswamy Temple. In Dharmasthala, charity is a way of life, extended to all without discrimination. Sri Dharmasthala which is one of the sacred places in South India and is a famous pilgrim centre. It is situated in the village of Dharmasthala, in Beltangady Taluk of South Kanara district about 75 kms from Mangalore.??
Dharmasthala symbolizes the true essence of religion and stands out as an oasis of peace and harmony. Here, one can witness a happy confluence of three faiths co-existing in complete harmony. While the presiding deity is Lord Shiva, the priests who conduct the daily rituals are Vaishnavaite Brahmins and the Dharmadhikari of the temple is a devout Jain. Thus religious tolerance and a spirit of oneness, which are the prominent characteristics of the Indian cultural heritage, has become the hallmark of Dharmasthala.??
Recently in 1980a€?s one more Gomateshwara has been installed by Hegde Of Dharmastala. Ranjala Gopala Shenoy was the artist for this sculpture. Gomateshwara monolith was made in Karkala.