Soans Farms - Where that Magical Experience of A Great Holiday, comes true.  Snuggled in over 100 acres of Pineapple, Vanilla, Pepper and other exotic fruits like Rambutan, Mangostein, Langsat, Durian etc.
In Moodbidri, SOANS FARMS offer a never before treat to the nature lover.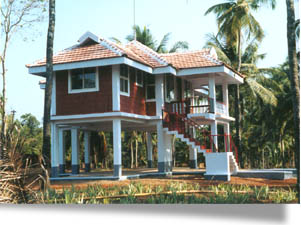 The rustle of swaying trees cheerfully heralds your arrival.  And you are ushered into the peaceful environs of Soans Farms.  Strolling through the rich green grounds, along the plantation - lined avenues and pathways lined with trees, you'll feel welcomed, safe and relaxed in its tranquil surroundings.
Cottage
As you lounge contented in the warmth of your cottage listening to the exotic chirping of the birds and the whispering breeze, a soothing calm descends on you.  And you are transported to a land beyond time.
Your own little getaway touched away in the serenity of the countryside, where the air still smells fresh... a delightful retreat from the rigors of city life - that's what Soans Farms is all about.
Click HERE to get the details of the Crops grown in Soans Farm.